Today I Can, maybe tomorrow You Can too!
At age 93, Phyllis Ryan has lived a full life. Currently residing in a nursing home in Swords, Co. Dublin, Phyllis has always enjoyed exercise. Her favourite activity was hiking with her late husband, their dogs, and a big group of like minded people.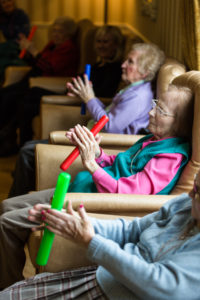 Now Phyllis takes part in a weekly exercise class run in her residential home by our Siel Bleu Physical Trainer, Craig. While Phyllis is probably one of the fittest 93 year old ladies you will see, she has had numerous issues with arthritis in her shoulders and was unable to lift her hands above her head. Thanks to the exercise class, and the adaption of the programme, Phyllis can now raise her hands over her head. She says the programme has helped her to retain her every day abilities, "I can keep moving!"
Would you like to join the I Can movement and discover what you CAN do?
Why not check out our website and follow us on Facebook and Twitter!