I Can Do Anything I want
Written by Erin Mrozek
Meet Jennifer Sweeney, a friend, daughter, mother (to her dog Muffin), cancer survivor, and one of the strongest people you will ever meet. She was one of our I Can champions last year, and her story was so inspiring that people contacted Siel Bleu to find out how they can get as fit as her. After making a lasting impact on the Siel Bleu staff, and those who were touched by her story, we decided to make her our poster child for this year's I Can campaign.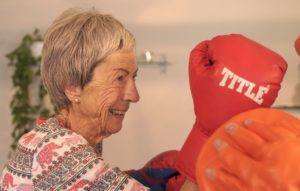 In 2014, Jennifer was diagnosed with oesophageal cancer, where she went through radiation and chemotherapy, and the beaming light that is Jennifer started to fade. The treatments completely, "flattened her out," leaving her to feel exhausted, and downtrodden, unable to be the active person she once was. Fast forward to 2016, a friend of hers, who lives on the opposite side of Dublin, had been going to a Siel Bleu community class in Bray, and rejoiced about her experience. Jennifer, searching for a way to feel like herself again, contacted us. Due to her extreme fatigue, she was unable to drive to the classes, but thankfully we have the option of one to one programmes. This is the story of how Jennifer got her spark back.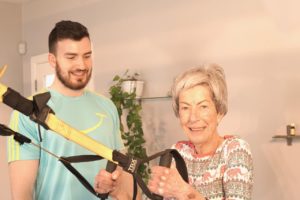 Immediately, Jennifer and her personal trainer at the time, Paul, had great rapport. She describes her first sessions with him as, "great, because he caught on to my abilities right away, and very gently he would push, but not too much." This is not unlike many of the experiences of other participants, as our trainers are not only highly educated, but empathetic, and personable. When she started, she was only able to do exercises at the kitchen table, sitting down, and standing up. The same person after 6 months was able to do 150 squats, which is a considerable amount, even for the avid gym goer! Every year she goes to Turkey for holiday, and during the interview she jokes that everyone there calls her Jennifer Lopez, because the famous singer and actress is known for her backside.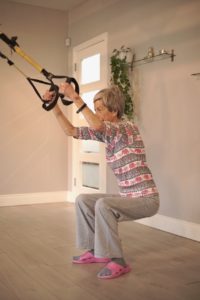 Sean, her current trainer, remarks how far she has come, even from that moment. When he first met her she only wanted to do exercises she was familiar with, and at the beginning was not too fond with change. Overtime, her sessions progressed, and he added more exercises to her repertoire. He conveys, "Seeing her step out of her comfort zone has been the best/biggest achievement of our time together."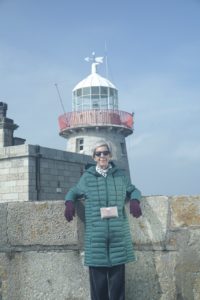 Her trainer is not the only one who has noticed a difference in her. Finn, Jennifer's best friend of 20 years, exclaims, "She's fitter and stronger than I am!" At first, Finn was skeptical about the programme, fearing that a personal trainer might push Jennifer too hard, and end up injuring herself. Yet, as time went on, she saw how the programme has impacted her both physically, and mentally. From helping her get through gloomy winter days in Ireland, to being able to carry her dog, Muffin, up and down the stairs. Jennifer proves that strength does not come from age, or physical attributes, rather it comes from never surrendering to the obstacles that are placed in front of you. For anyone considering Siel Bleu for themselves, or a loved one, let me leave you this, "It's not about miraculous achievement, it's the fact that you are doing something… you feel better and if you feel better, you'll perform better." — Jennifer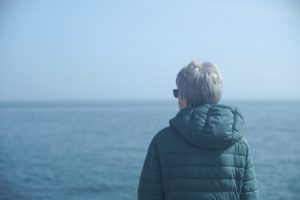 Jennifer is featured in our I Can 2019 ad
To read more in depth on Jennifer's story checkout her feature in the Irish Examiner: http://bit.ly/ICanExaminer
You can also watch Jennifer's video from last year's campaign here.
To try a Siel Bleu One to One Programme call 01 209 6889 or email info@sielbleu.ie For more information on One to One Programmes
Don't forget to follow us  follow us on Facebook and Twitter!