No one should feel alone, exercise can help you regain your happiness
Loneliness and social isolation are some of the biggest issues facing older people in Ireland today. While loneliness doesn't discriminate, our older populations are often those most at risk. People aged 65+ who live alone are significantly more likely to experience loneliness and with one in three older adults living alone, this only adds to their susceptibility to developing dementia and other chronic diseases. In the last number of years, we're becoming more aware of the impact of loneliness on our overall health and as our population ages, now, more than ever, it's vital we put into place measures to combat this crippling issue.
In today's blog post, we're highlighting how organisations with similar intentions can work together to reduce loneliness and isolation amongst our older population.
After her husband's death four years ago, Mary Dunne, who will turn 79 this April, found life to be very lonely. Having worked as a cleaner in London for years, Mary spent much of her later life as a carer for her husband Richard and upon his death four years ago, she found herself at a loose end. Mary's story is unfortunately not dissimilar from hundreds of older adults who have spent considerable time caring for a loved one and find themselves alone after their passing.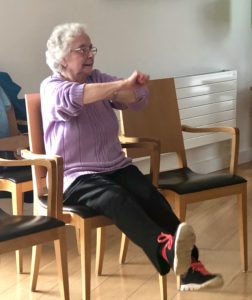 ALONE is a national charity that provides a multitude of services for thousands of Ireland's older adults who are homeless, socially isolated, living in deprivation or in crisis. Mary became linked to ALONE five years ago when she received accommodation support for her and her late husband. "My husband and I were in a dump of a bungalow, it was dreadful damp. I'd never heard of ALONE before that, but I rang them on a Friday and on Monday they'd gone to the council on my behalf and about four weeks later we moved."
After Richard's passing, Mary continued to be supported by the charity and became a beneficiary of ALONE's Befriending Service, which provides companionship to older people who are socially isolated through a weekly volunteer visit. "Helen comes to me every Wednesday, she takes me shopping and brings me back home and we can have a cup of tea. Sometimes we even go for a bit of lunch. I'd be lost without her." Through the Befriending Service, hundreds of older adults like Mary are supported with friendship and help with necessities such as shopping which can be daunting to an older person.
Over the last 18 months, Siel Bleu Ireland and ALONE have been looking at ways to work together to help reduce social isolation and loneliness for older adults and ensure they can remain inclusive members of society. One such way is letting the older adults linked with ALONE know about the Siel Bleu exercise classes in their area. Exercise is proven to help older adults regain or maintain their physical function, by doing so, it can contribute to their confidence in their own abilities and their independence.
In September 2018, Mary began attending our community exercise class in the St. Benedict's Housing for the Elderly Community Room in Malahide. "A girl from ALONE told me about the exercise class and I said 'Oh yeah!' I thought it would be great to get out of the bungalow for a while," said Mary. Every Thursday afternoon, Mary attends the Chair Gym class delivered by Siel Bleu Physical Trainer Michelle Lynch. "The classes in St Benedict's bring people who live on site and from the wider community each Thursday," says Michelle about the class, "The work consists of resistance training, balance work, walking and some games. It's a great social outlet for the people who come to the class as it allows them to meet new people."
Five months on Mary is still a weekly regular of the class and is benefitting in more ways than one. "Michelle's (Siel Bleu Physical Trainer) a great girl, she's helped me an awful lot with the exercise and mostly, we have a great laugh, it cheers me up because I can get very low as I'm on my own, except for my dog and my cat. Everyone here (in the class) is lovely as well, they're very welcoming and we get on great."
"I've lost a stone since coming to the classes last September," continued Mary "and I'm off blood pressure tablets, I feel great. The doctor even said to me she thinks it's great."
"Mary's come on leaps and bounds," says Michelle about Mary's progress, "I've seen her grow in confidence and is determined to give her best each week. She has met new friends and is looking to join a dance class now, as it's something she's always loved."
By working together and sharing information about the support of other like-minded organisations, we can make sure Ireland is a better place to grow old. We want to make sure that loneliness in older adults decreases because just as we get older does not mean we have to become less happy.
For more information about ALONE and their services visit their website. To find a Siel Bleu class near you click here.