We Can Exercise To Socialise – The Ladies Of Laurencetown
Written by Erin Mrozek
Imagine yourself full of excitement, and anticipation as you are heading to your favourite event of the week, a Siel Bleu exercise class. You open the doors to see welcoming faces, new and old friends, awaiting your arrival. The trainer enters the room, and the class commences. During the class, you look around, and as everyone is working out, people are laughing, smiling, and genuinely enjoying themselves. As soon as class ends, the group sits down for tea, and a chat, as they talk about what is going on in their lives. When you leave the class, you smile to yourself, knowing how much you have gained from this class, physically, and mentally. This is the experience of many of the women from the Ladies of Laurencetown.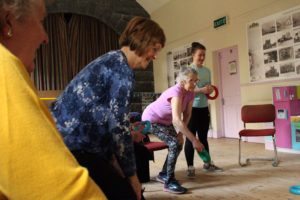 Three years ago, Laurencetown local Loraine Pardy was seeking a health initiative that she could bring to her beloved hometown. With a quick search on the internet, she discovered Siel Bleu Ireland on the Change X platform and got in contact straight away. Three years later, the ladies of Laurencetown come together once a week to exercise in the comfort of their own town with their neighbours. Ranging from late fifties to mid eighties, each week the Ladies of Laurencetown gather in their local community centre to exercise under the guidance of Siel Bleu Physical Trainer, Aisling Warburton. Classes take place on Thursday evenings at 7 pm.
Anytime you start something new, people can become apprehensiveness, and intimidated, especially when it comes to an exercise programme. Yet, when it comes to a Siel Bleu class, like the one in Laurencetown, you will have nothing to worry about. Everyone who attends the class is coming from all over, and each one has a different background, and abilities. Veronica Walsh, age 68, a longstanding member of the class notes, "Do what you can, it is all that matters," as her friend Freida Kenny, age 73, adds, "I never knew how good it was going to be, just come and see!" They even gushed about their trainer, Aisling, saying how she is very clear in her instructions, has the best manner, interacts well with any age group, and is overall a lovely person.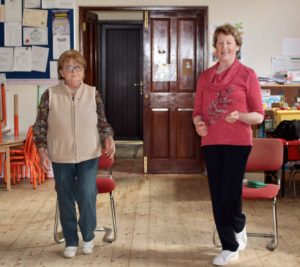 Beyond the physical benefit from working out, the Ladies of Laurencetown are fond of the social aspect of the class. After class, Loraine makes a cup of tea for everyone, and from there the group gets together to talk, and laugh. The whole group would agree that you are not just receiving an exercise class, but are developing relationships, and getting a sense of community. Even though these women like to have fun, they are highly motivated. Siel Bleu Trainer, Aisling, who runs the class, conveys, "they are always wanting to be challenged, and improve, as they are interested in being active, and staying active." One of the women, Nancy Shiels, 82, mentioned how she does exercises at home, and goes out for walks in the evening to keep up her strength, and stamina.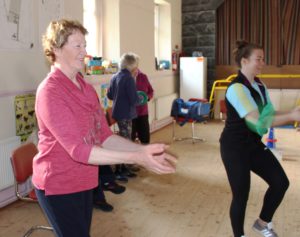 When asked the question: Is there anything you can do now, that you could not do prior, or that is easier to do?, the women had a lot to say. From being able to clean windows to going up the stairs without having to hang on to banisters, their day to day lives have improved immensely. Moira Kelly, age 72, shares how it makes such a difference, because it keeps them limbered up, and that how when one of the ladies missed one week they started to feel stiff again. It shows the importance, and the reasoning of why these ladies are so consistent, and love it all year round.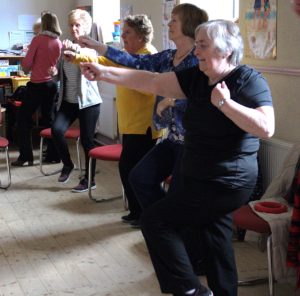 To bring Siel Bleu to your community call 01 209 6889 or email info@sielbleu.ie For more information on Siel Bleu Community Programmes 
Don't forget to follow us  follow us on Facebook and Twitter!
Check out our I Can Campaign ad