Our participants and their experiences with the classes are of the utmost most importance to our team at Siel Bleu Ireland. It is for this reason we like to check in with the particpants to make sure they are getting the most out of our programmes and to hear their stories. Today, we'll be sharing an interview with Noleen. From mother, to lollipop lady, to getting her Ph.D in philosophy, Noleen really has done it all. The regular at the Greystones Fall Prevention class sat down to talk with us about her thoughts on the Siel Bleu Ireland class.
How long have you been coming to the class?
I've been coming, I think, maybe 2 years. 2.5 years maybe. I started in- it might be September 12 months ago or 2 septembers. Time is irrelevant at my age!
How did you find out about the class?
It was in the In Wicklow Magazine. And it was the first thing I had joined. I only came out here about 4 years ago. And so my daughter kept saying "oh did you do this, and did you do that" and I had done nothing. So I saw that in the magazine and said "that's it" (claps). 
Where did you come from?
I came from Dun Laoghaire. A big change and a wonderful experience.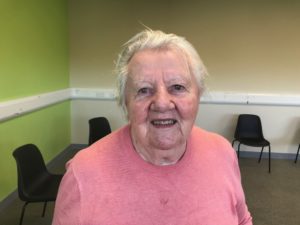 Did you have any physical health issues before starting the class?
Well talking about standing up and sitting down, I had developed a "Oh god" (mimics difficulty standing up with a groan) every time I got up. It was nearly- you know when something hurts and you nurse it? And then when all different places hurt… Almost everywhere hurt. So I had slowed down to be an old woman you know, and getting out of a chair and going down the stairs- that was what made me move, coming down the stairs was… I'm thinking "If I fall here, I could be down for days". So that's really it. But it's made a wonderful difference to the way I move. And my daughter now has sent me to extra classes. I would never have been able to go there if I hadn't come here first. And I keep recommending them to people! I have someone who's coming next week!
What's your favorite exercise to do?
Well I love- well we all love the games! We're like kids! It's great fun. And then there are different things, we didn't do it today because there were so many, but we do balancing at the chair and you know standing. You know, we all find that difficult to some degree. That game is great fun but, actually, you know the one that really struck me at the start was getting up and down out of the chair because I couldn't do that. 
Can you now?
Oh yeah. (demonstrates) I can do squats now! That was last year's trick. I'm gonna have to develop another one this year! 
How do you feel about the trainer, Margueritte?
Margueritte is super. She really is. She knows everything about what she's doing. She's not sort of sharing with you all the time. She just says "you feel it here". She's not talking about your glutes and your quads. And she also, she has a very sympathetic personality. And she's good fun! She can take a joke. But she is good. And, you know, she says, if it hurts, don't do it. Which of course, other people keep saying "come on, come on! Get those knees higher." But, I think she's really good. She knows her stuff as well. She's good fun and she's sympathetic at the same time. She's not one to say, "C'mon, you're too old to do that". I think she has a very good personality for this type of work.