I Can Inspire! – The Salty Sea Dogs
Written by Erin Mrozek
Best mates, men of the sea, jokesters, and inspirational , are just a few words to describe our champions today, the Salty Sea Dogs. After retirement, many people feel lost without their colleagues, yet these men have found solace within each other's company.  Six days a week they meet for coffee to discuss their day to day lives, and as one of the member's joke, "to sort out the world's problems." As they all enjoyed this routine, a period in time would change it forever.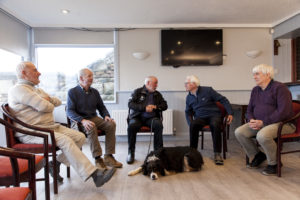 One day, Flor O'Driscoll, was sailing on the coast when he suffered a stroke. Even though he survived this terrifying moment, his arms and legs were disabled. Through his stroke recovery group, he started participating in Siel Bleu classes. Through the exercise courses, acupuncture, and physiotherapy, Flor was restored of the majority of his abilities, and was able to continue to do his favorite past time, sailing. Motivated by his own progress, and enjoying the social aspect of it,  Flor was determined to bring the class to the Salty Sea Dogs. Now, every Monday morning, instead of just sitting down for a coffee, and a chat, they take part in Siel Bleu exercise classes lead by Shane.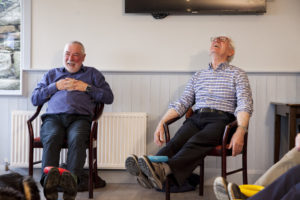 With their playful personalities, and quick wit, many people would not know that the majority of these men are in their seventies. The men who are young at heart, have seen how age can eventually start to affect physical, and mental abilities. They especially noticed this when they first  started with the exercise classes, expressing, "Makes you a bit aware that none of us are getting any younger." At times they may leave the class feeling wrecked, but the Salty Sea Dogs know the significance of maintaining their fitness to continue to do what they love, as Flor conveys,  "Its important to be able to continue your hobbies, and have a purpose in life when you retire."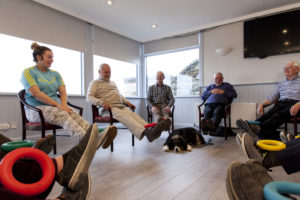 These men are similar in many ways, yet they all come from different walks of life, and range in age dramatically. What may seem like a challenge to other exercise programmes, is a specialty of Siel Bleu. The comprehensive classes are tailored to each group's needs.  Sailing, a past time  that many of the members have been doing since they were adolescents, requires balance, coordination, strength, and a sharp mind. These are all components that are worked on each class. Yet, the class is not monotonous in the least. The trainer always keeps it interesting, such as a friendly competition where the loser has to do the dreaded exercise known as the bicycle. This is why when they are asked why the keep coming back, they say, "its good craic!" Life is too short to not enjoy it, and these men demonstrate that someone can get fit, and also have fun.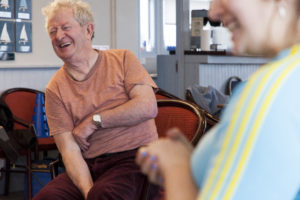 Exercise is not just about getting in better shape, but it is also a preemptive measure. Falls are a huge issue for the growing aging population, as it leaves people injured, and many times takes away people's independence. One of the main methods for preventing this is through an exercise regime. This is what allows men like Liam at 89, the oldest member, to be able to sail his own boat. Likewise, Flor, who at one point lost the ability to use his left side of his body, to sail independently. As we grow older, we tend to focus on things we can no longer do. Yet, at Siel Bleu we focus on what you can do. Shane, explains our view perfectly as he notes, "..its just about empowering people, like Flor who had a stroke, that you too can enjoy the benefits of exercise… so no matter what may be a personal barrier of challenges, you can always participate in physical activity."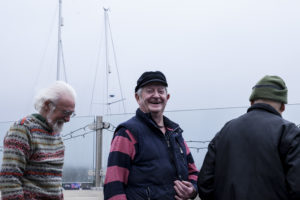 The Salty Sea Dogs are featured in our I Can…So Can You Ad – watch below
Don't forget to follow us  follow us on Facebook and Twitter!
To bring Siel Bleu to your social club call 01 209 6889 or email info@sielbleu.ie For more information visit Siel Bleu Community Programmes