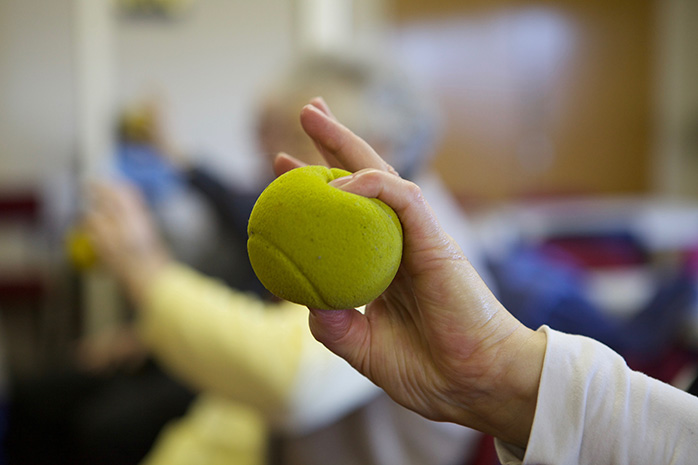 Established in 2015, as pilot project funded by The Ireland Funds, our programme with The Irish Heart Foundation's Volunteer Stroke Scheme is an adjunct therapy for adults who have experienced a stroke. The programme aims to improve participants' movement and functional capacity. There are currently 11 programmes running nationwide.
To try Siel Bleu contact us.
Find One Near You
IHF Whitehall – The Scout Hall, Larkhill Road, Whitehall, Dublin 9
Stroke Survivor Class with Martina
Thursday 12:00
Mounttown IHF – Mounttown Community Facilities, Meadowlands, Fitzgerald Park, Lower Mounttown Road, Dun-Laoighre, Co. Dublin
Stroke Survivor Class with Deborah
Tuesday 11:30
Tallaght IHF – Rua Red Arts Centre, The Square, Tallaght, Dublin 24
Stroke Survivor Class with Maeve
Tuesday 11:30
IHF Young Stroke Survivors Class, Anytime Fitness, Heuston South Quarter, KIlmainham, Dublin 9
Young Stroke Survivors with Shane Lee
Every Second Monday 10:30
Call Helena (IHF Coordinator) 086 1300 237
Castleknock IHF – Our Lady, Mother of the Church, Beechpark Lawn, Castleknock, Dublin 15
Stroke Survivor Class with Maeve
Wednesday 12:00
Naas IHF – Ballycane Parish Centre, Ballycane, Naas, Co. Kildare
Stroke Survivor Class with Maggie
Tuesday 16:10
Longford IHF – The Attic House Teen Project, Ballinalee Road.
Stroke Survivor Class with Aisling
Tuesday 11:00
IHF Drogheda – Ballsgrove Road, Drogheda (Beside Holy Family Boxing Club)
Stroke Survivors
Tuesdays 11:00
Navan IHF – Clermont Hall, Navan, Co. Meath
Stroke Survivor Class with Shane M
Thursday 2:00
Contact: Seamus Casey (email him) Tel: 086 1300238 for any questions
Roscommon IHF – Hannon's Hotel, Althone Road, Acres, Roscommon
Stroke Survivor Class with Aisling
Tuesday 12:30
Sligo IHF – Woodhaven, 1st Sear Road, Strandhill Road, Sligo
Stroke Survivor with Fiona
Thursday 15:00
Waterford IHF – Waterford Teachers Centre, Newtown Road, Waterford City
Stroke Survivor with Darren
Tuesday 12:00
Mullingar IHF – Park Hotel, Dublin Road, Marlinstown Bog, Mullingar, Co. Westmeath
Stroke Survivor with Aisling
Thursday 11:30